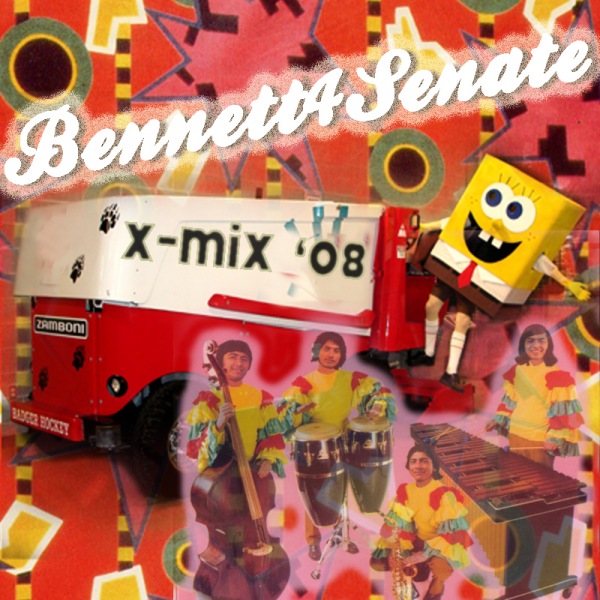 The short answer is that this year I listened to a lot of disco.
In January '08, shortly after publishing last year's XMIXes and with the housing bubble still comfortably inflated, I linked up with like-minded WNYU DJs for the inaugural Serious Bu$iness, a night of electric disco and boogie funk. Still going strong at the ripe age of 1, Mike and Alex put me up on a lot of disco 12″ knowledge in 2008, and with the help of Jamie Dubs we established some Serious Bu$iness classic party starters including the D Train and Central Line included here.
Luckily we weren't the only ones feeling the pulse of synths and boogie rhythms (and motherfucking so much autotune) last year – proud to say that my XMIX has a number of tracks that actually came out in 2008! James Pants and Dam-Funk are two of the most exciting recent signees to Stones Throw, and James' Welcome LP and Dam's Rhythm Trax Vol. 4 have been on steady rotation at the house. I also had the chance to share a drink and talk music with the both of them during CMJ, and they are two kind, motivated, enthusiastic dudes. Good people. No surprise – we're all Gemini's (me'n James got the same birthday).
Francis and the Lights – blowin' up the blogs, amazing live show, mysterious frontman, incorporated rather than signed to a label, giving away their albums (mostly), sounds kinda like minimal, yelping Prince, beautiful stuff, about to be huge. (Just so y'all know, when all your friends are telling you about this new band, they played a show in my dining room back in 2007 – recognize game.)
A few discoveries came from the catalogs of a certain record label at which I was briefly employed this year that shall remain nameless. They have some deep gems in the catalog (which, thankfully, is completely digitized) that will remain painfully overlooked as long as they have the same boss problems that made me jump ship. The James Monroe cut being a prime example, as well as the lost bit of tape that's on some after-school program spittle, reminiscent of my man Eli's famo-worthy battle.
With my "cheesy music" gag reflex seriously tamed by a steady diet of disco, and a friendly push from my girlfriend, the floodgates were opened to let some seriously R&B-flavored jams find their way into my crates and my heart, from Computer Love, Loose Ends, and the crafty productions of the System, up to the 'too soon?' nostalgia of a Mark Morrison banger. Raymond Scott and Project Pat, scientists in their own worlds, got me through my last semester of college, and Javelin will be forever fresh.
Stay tuned to letsgetserious.net for more musical selections in 2009!
Download
Bennett4$enate – XMIX 2008
(123.5mb .zip 'cause I like them 320kbps mp3s, y'heard?)
or stream it.
Tracklist:
1. Raymond Scott – Bendix: The Tomorrow People
2. * Javelin Logo
3. Javelin – Whammy
4. James Pants – We're Through
5. D Train – Keep On
6. James Monroe – Frontiersman of the Galaxy
7. Central Line – Walking Into Sunshine
8. The System – You Are in My System
9. Francis and the Lights – Strawberries
10. Javelin – Candy
11. Mark Morrison – Return of the Mack
12. Dam Funk – Gold
13. Project Pat – Niggas Got Me Fucked Up
14. *chirp
15. Earth Wind and Fire – Brazilian Rhyme (Extended)
16. Loose Ends – Hangin' On a String
17. Zapp and Roger – Computer Love
18. *chirp
19. some kids with speech impediments aka Chester
20. Juicy J – Outro
shoutouts:
Marty McSorely – I had a chance to do a guest spot on Marty
s show, a night called Broken Tape Decks, where Marty, Forest and I played all thrift-store and found cassettes for 4 hours. Totally awesome, some super bizzare music, listen here
A Downtown Affair – Mike McGill and Alex B. doin' the disco from WNYU to you. My guest set here.
Discogs, Wax Poetics, drop.io, Last.fm, Opentape, and Oh Babar! for being great resources.